It comes at a time of transition for the oil-rich region, where competing kingdoms face growing pressure to diversify their economies ahead of a global energy shift away from fossil fuels.
Loading
Along with sport and tourism, dominated by Saudi Arabia's recent soccer spending splurge, entertainment is another key sector being targeted by regional investment.
Duqm lies about 530 kilometres south of Oman's capital Muscat. Once a small fishing settlement, today it is an industrial oil town. The arid landscape receives virtually no rainfall.
Ibrahim hopes for the site to attract blockbuster productions and film stars, "to make English action movies." But there's a cultural catch.
"The only thing we ask [of] the scriptwriters, the thing that we request is for our culture and our religion to be respected, not to go beyond those boundaries."
Ibrahim would not expand on where such boundaries lay, only insisting that productions do not "offend."
"[People] can read into it any way they want. As long as it does not offend our religion, Islam, we're happy with that".
What this would mean for films featuring same-sex themes, or gay cast and crew, is unclear.
Like many of its Gulf neighbours, Oman deems homosexuality illegal. A 2018 penal code also bans the publication of words and images "contrary to the public order or morals". There is no evidence of laws against same-sex sexual activity being enforced since 2009, according to the UK Human Dignity Trust.
Films are frequently censored in countries across the Middle East, with scenes cut to adhere to cultural guidelines. Lebanon banned the Barbie movie from cinemas in August for contradicting religious values. Kuwait followed the same day.
On the other hand, traditionally conservative Saudi Arabia approved the billion-dollar blockbuster to screen in sold-out theatres, hinting at the region's shifting cultural and political landscape. (Religious police banned the toy itself in 2003 for being a threat to morality.) Barbie also screened in the UAE.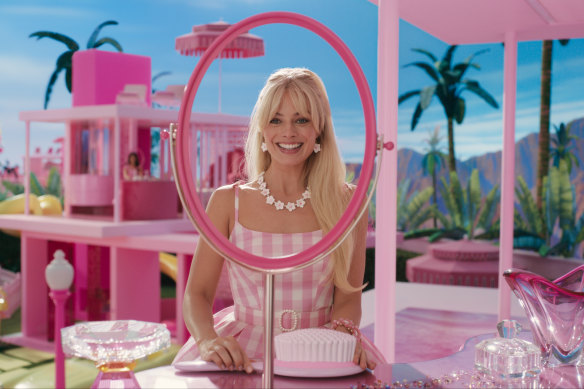 Executive officer of the Australian Guild of Screen Composers Kingston Anderson said establishing a studio took more than just infrastructure.
"You can build studios anywhere, but unless you've got a workforce…certainly the crew, it's very hard to run them," he said, adding that advances in technology had reduced the need for costly location shoots.
"Places like the Middle East obviously have the desert landscape which can be otherworldly. But they're creating the other worlds now…with LED screens that basically create real-time locations. That's the future."
The Duqm studio site will not be the first in the Gulf. Saudi Arabia's NEOM Media Village and Badjah Desert Studios have been open for business since 2022, offering sound stages and a 40 per cent cash-rebate scheme.
Ibrahim said he believed both sites could work together to build a strong regional film industry.
"Deserts in many places can become thriving hubs. Our plans for Arabiawood in Oman are ambitious, but certainly not outlandish. If you build it, they will come."
Get a note directly from our foreign correspondents on what's making headlines around the world. Sign up for the weekly What in the World newsletter here.