As two dams collapsed and stormwaters tore through the streets of the Libyan city of Derna, carrying bodies and buildings with them, Ruba Hatem Yassine, her pregnant sister and several older relatives clambered up a neighbour's ladder to the roof to flee the grasp of the rushing flood below.
From there, they scampered from rooftop to rooftop along their narrow street, Yassine, 24, recounted on Wednesday. Eventually, they sought shelter in a small storage unit on one of the rooftops and watched for hours as the water overwhelmed the city.
Once the floodwaters had somewhat subsided, other survivors helped her family of nine come down to safety.
They waded through the knee-deep water, leaving everything behind.
"We walked out barefoot and saw our friends and neighbours dying around us," she said. "And we couldn't do anything."
Some 9000 people were missing, Libyan authorities said on Thursday.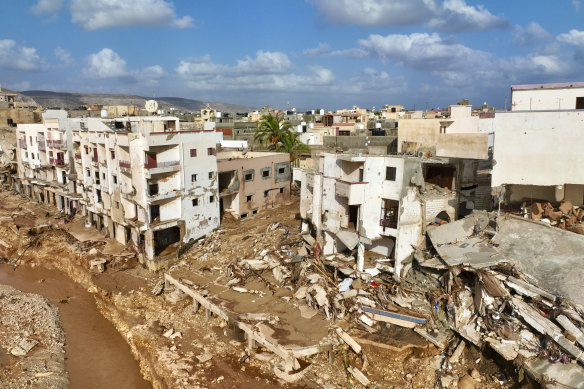 The death toll, which has surpassed 5100, could reach up to 20,000 based on the number of districts that were wiped out, the mayor of Derna, Abdulmenam al-Ghaithi, told Al Arabiya television.
Desperately needed aid was trickling into the eastern half of the country, but with roads and bridges damaged or cut off, access to the hardest-hit city, Derna, on the Mediterranean coast, remained a major hurdle to bringing in help, according to international aid groups.