Washington: Donald Trump has formally pleaded not guilty to election interference in Georgia, but has opted to skip an in-person court appearance next week to face his latest charges.
The former president was due to be arraigned in an Atlanta courthouse on Wednesday morning for what would be his fourth criminal plea since leaving the White House.
But in a court filing on Thursday, local time, Trump waived the right to his arraignment, which would have happened alongside his alleged co-defendants, including former attorney Rudy Guiliani, former chief of staff Mark Meadows and former department of justice official Jeffrey Clark.
"As evidenced by my signature below, I do hereby waive formal arraignment and enter my plea of NOT GUILTY to the indictment in this case," Trump said in the court filing.
The move comes after Trump was arrested, fingerprinted and had his mugshot taken at the Fulton County jail last week, a prison about 20 minutes from downtown Atlanta that is notorious for overcrowding, violence and suspicious deaths.
Since then, he used his historic mugshot to fundraise more than $7 million for his re-election campaign, placing the infamous picture on mugs and T-shirts with the words "Never Surrender" (even though the former president did, in fact, surrender himself at the jail last week).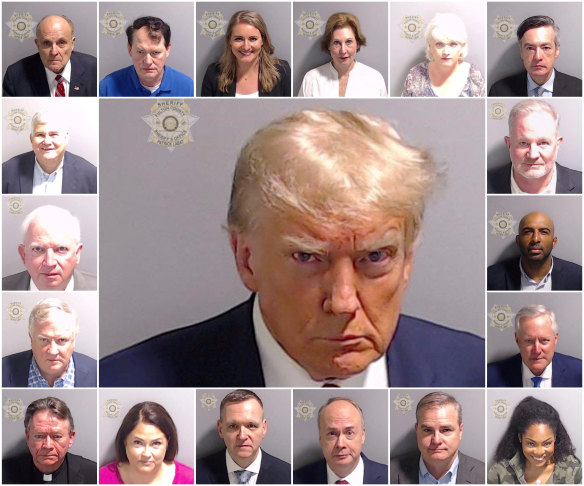 By not appearing in court, the former president will have more time to campaign for re-election instead of travelling to yet another interstate court, where he would have been forced to spend hours listening to a 91-page indictment accusing him of trying to overturn the 2020 election results in Georgia.
Next week, for instance, he is expected to push for more donations at a Republican rally at Mount Rushmore in South Dakota, the famous landmark featuring the faces of former presidents George Washington, Thomas Jefferson, Theodore Roosevelt and Abraham Lincoln.