Washington: Hurricane Idalia unleashed devastation in Florida after making landfall as a Category 3 storm, submerging streets and homes, sparking widespread power outages and resulting in at least two deaths from car crashes.
But after lashing sparsely populated stretches of Florida's Gulf Coast on Wednesday morning, the hurricane had weakened to Category 1 strength by Wednesday afternoon as it may its way towards Georgia and the Carolinas.
US president Joe Biden used the latest weather event – which comes after record wildfires in Canada and Maui – to highlight the impact of climate change.
"I don't think anybody can deny the impact of a climate crisis anymore," he said at the White House. "Just look around. Historic floods. More intense droughts. Extreme heat. Significant wildfires that have caused significant damage like we've never seen before."
Despite the storm not being as fatal as authorities initially feared, FEMA Administrator Deanne Criswell said Idalia was the strongest hurricane to hit the Big Bend area of Florida in 100 years, which takes in coastal towns such as Keaton Beach, Cedar Key and Steinhatchee.
"While it is still too soon to assess the damage, we know that the storm made landfall as a category 3, which means over 120 mile per hour (193 km/h) winds and up to 10 inches (25 cm) of rain in some areas," Criswell told reporters in Washington.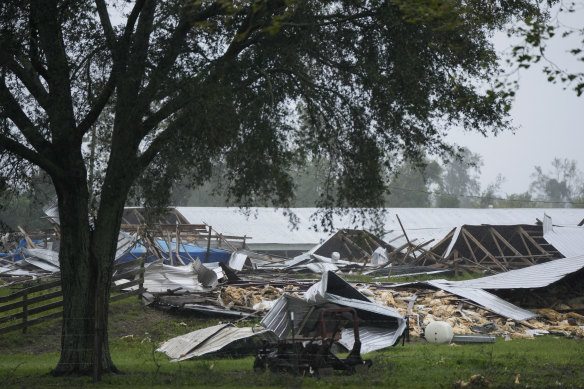 Idalia came to shore near Keaton Beach at 7.45am, unleashing its fury in a state that only last year was smashed by Hurricane Ian, one of the costliest weather disasters on record was the third-costliest weather disaster on record.
Home and cars across the Big Bend region were flooded, boats became unmoored and more than 260,000 people in Florida were without electricity, with power outages for a further 100,000 people in Georgia.