But it also found 32 per cent want Australia to transition to a republic as soon as possible, up 12 percentage points on a similar poll last year.
That compares with 35 per cent opting to remain a constitutional monarchy.
In Britain, the YouGov poll found Charles had an approval rating of 59 per cent, compared to his son William, the new Prince of Wales, with 69 per cent. Past surveys showed only around one-third of the public ever approved of Charles when he was the Prince of Wales.
At the time he was criticised as the "meddling prince" because of his interventions on a range of political issues including climate change. That changed when the Queen died. His ratings shot up to 63 per cent approval and have stayed around that mark ever since.
Royal commentator Richard Fitzwilliams said Charles' first speech to the nation after his mother died was the defining factor.
"His speech to the nation where he pointed out that, obviously, he would diverge from the activist Prince of Wales that he had been previously – that was what the job entails," Fitzwilliams said.
The picture is not all rosy, however. YouGov's polling also showed a major generational divide sharpening with 80 per cent of over-65s supporting the monarchy, but support falling to just 37 per cent among those aged 18 to 24.
"It's clear that the biggest challenge facing the monarchy currently is falling support among the youngest generation," Matthew Smith, head of YouGov's data journalism said.
Fitzwilliams agreed that fallout from the decisions of the Duke and Duchess of Sussex, Prince Harry and Megan, to "step back" from senior royal roles – and his subsequent memoir and Netflix series – had taken a toll on the monarchy and was part of the reason for the "extraordinary imbalance" between generations.
"You've definitely seen it take a toll because they were the modern face of the family," he said. "There is something very, very new in the way that younger people are disillusioned."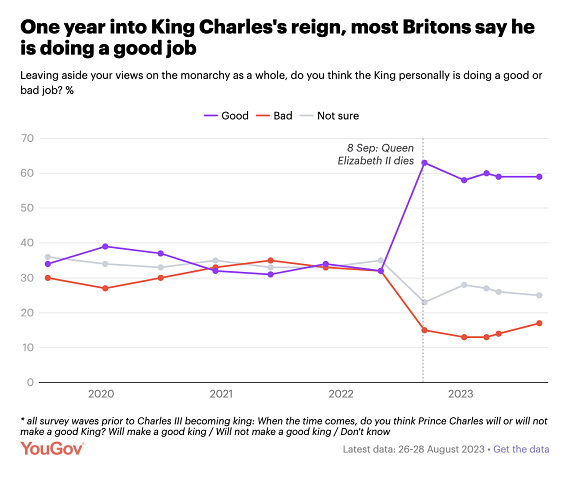 Ingrid Seward, editor-in-chief of Majesty Magazine, said Charles' reign had started "exceptionally well" and he was seeking to stamp his own mark on the job.
"I just think he's been really, really busy with everything that's happened this year," Seward said. "He has his own things to do but first and foremost comes the job of being king."
Unnamed friends told Britain's Sunday Times newspaper that Charles had found the workload surprising but had settled into his role.
"He seems very content and happy, having mourned the loss of his mother, he is settled. His destiny has arrived and he has embraced it," one close friend told the paper, while aides said the King and his officials were being cautious.
Media reports say he will soon launch an initiative to combat food waste, something that would help maintain his long-term sustainability advocacy. He was also reportedly looking to scale back staffing levels within his household.
But Charles' second year is also expected to involve more travel – so far, his overseas trips have been limited to Europe and Germany. He is due to finally got to France on September 20, after an earlier trip – his first as King – was cancelled last year because of riots.
"I would definitely expect more on the Commonwealth," Fitzwilliam said.
Loading
"We should expect more very soon, that's very important. Queen Elizabeth used to say 'I must be seen to be believed'. Well, there's no doubt at all that they should be seen."
Smith said for now Charles benefited mainly from simply existing in the job.
"I can't imagine people have noticed anything particular about Charles' performance over the last year. It is notable that public opinion on how well Charles was doing in his job shifted purely based on the fact of his becoming king, rather than anything he actually did.
"I think this whole 'different style of monarch' thing has been high in the press' consciousness, but I've yet to see anything by the way of big stories that could have changed the public's view."
Get a note directly from our foreign correspondents on what's making headlines around the world. Sign up for the weekly What in the World newsletter here