London: King Charles is preparing to launch his first major personal project as monarch – an initiative aiming to bridge the gap between food waste and food need.
The project, to be unveiled in the northern autumn, will build on the Coronation Food Project, a national scheme created to tackle food insecurity and waste.
It is a subject about which the King is passionate. He has previously voiced support for "use up" days, which can reduce food waste by up to a third, while personal efforts to save resources include feeding kitchen food scraps to his chickens and converting his Aston Martin sports car to run on surplus wine and whey from the cheese process.
Such is his dedication to the cause that the King is no stranger to unveiling fridge freezers as well as plaques. Earlier this year, he unveiled a freezer at the Felix Project, a food redistribution charity in east London, and made a donation to a £1 million ($1.95 million) fund providing fridges and freezers to food banks and community groups.
In 2020, he did the same on an engagement in Ayrshire, Scotland, whipping a tartan blanket off a two-door community fridge freezer.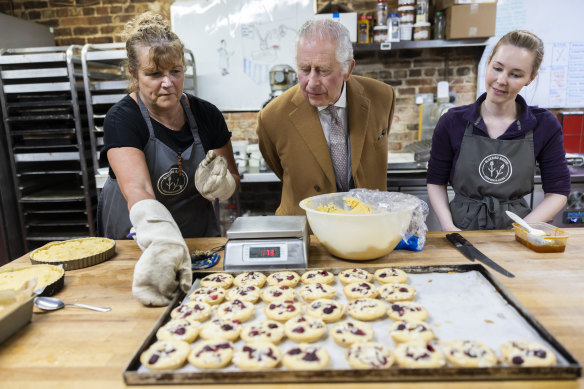 An estimated 1.3 billion tonnes of food are wasted every year around the globe – around a third of all food produced – with more than half of it thrown away at home.
King Charles insists that "informed choices" can help cut the "colossal" amount of waste. He also believes that tackling the problem could reduce global greenhouse gas emissions by up to 10 per cent because farmers would be under less pressure.
In an interview with The Telegraph in 2010, the then prince Charles expressed frustration about food waste, saying: "It's perhaps worth drawing attention to the immense amount of waste in the system – something like 10 billion quid's worth a year.