Fraser, speaking on Thursday afternoon (local time), said he believed it would be some time before the ship could return to sea as the crew needed to retrieve the anchor and put ropes away.
"We're just floating around, I don't think we're going to be going anywhere fast. The guys just started the motor," he said.
The ship will next sail to Akureryi, a port in Iceland, for safety checks.
"We need to get the ship inspected for safety, but we have to sail in the open ocean to do that," Fraser said.
"The captain is pretty confident there's no damage – it's a twin-hulled boat and they've actually had guys going down in between the two hulls. It's got crawlspace and they went down there to inspect."
Earlier this week, the ship made two failed attempts to float free on its own at high tides.
In a statement, the Arctic Command had said a Danish patrol boat, called the Knud Rasmussen, was on its way to the site to assist. He was originally due to arrive on Friday evening.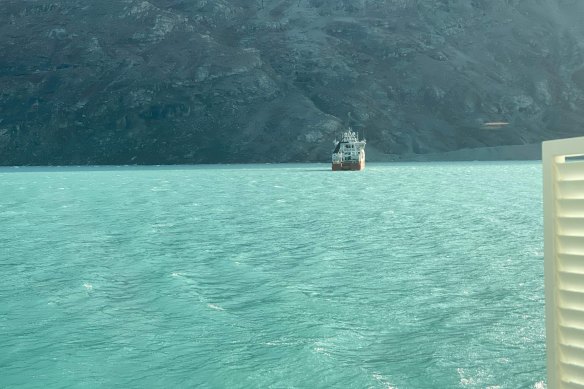 The Arctic Command earlier said there were other ships in the vicinity of the stranded cruise liner. Members of the Sirius Dog Sled Patrol, a Danish naval unit that conducts long-range reconnaissance and enforces Danish sovereignty in the Arctic wilderness, were also nearby and had visited the ship on Tuesday.
They had reported that everyone on board was fine and no damage to the vessel was reported. Several cases of COVID-19 had been detected and passengers isolated.
The ship's owner, Copenhagen-based SunStone Ships, had also said in an earlier statement that there had been no breach of the hull during the incident.
The Bahamas-flagged cruise ship has passengers from Australia, New Zealand, South Korea, the United Kingdom and the United States. It has an inverted bow, shaped like the one on a submarine, 77 cabins, 151 passenger beds and 99 beds for crew, and several restaurants.
with AP