London: Toy dolls made from seashells, a map made from turtle shells and other Indigenous heritage items have been handed back to members of a remote northern Australian community as part of renewed efforts among British museums to decolonise their collections.
The items were acquired by a controversial British anthropologist more than 70 years ago. On Tuesday, they were formally returned by the Manchester Museum to representatives of the Anindilyakwa community, who travelled from Groote Eylandt, the largest island in the Gulf of Carpentaria, about 50km from the north coast of mainland Australia.
Professor Peter Worsley had purchased, traded, and acquired the collection while undertaking fieldwork on the island for his PhD thesis on Aboriginal kinship in the early 1950s.
He joined the University of Manchester from 1964, hence the Manchester Museum coming to possess the 180 items in the Anindilyakwa collection, along with his extensive notes.
Elders hope the return of the material to custodians will re-invigorate cultural practices, some of which are at risk of being forgotten, as well as spark a contemporary art project inspired by traditional customs.
Among the items Worsley collected were several armbands, known as errumungkwa in the local language, made on Groote Eylandt probably from lawyer-vine, which elders traditionally wore during some ceremonies, including funerals.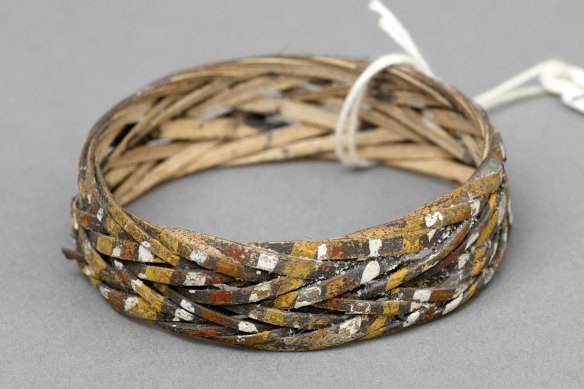 Some 70 dolls made from shells, called dadikwakwa-kwa in the Anindilyakwa language, are also in the collection, which were traditionally painted by parents for their daughters using intricate ochre designs, helping to strengthen cross-generational bonds within the community.
Worsley noted at the time: "Young girls had a separate set of dolls quite distinct from the boys' dolls, the female members of each clan being represented by different species of shells".