Ugandan prosecutors have lodged charges of "aggravated homosexuality" against a 20-year-old man – a crime punishable by death – in one of the country's first applications of a provision included in one of the world's harshest anti-gay laws.
Same-sex acts had long been considered illegal under the country's penal code, but a law enacted this year introduced far harsher penalties and vastly extended the range of perceived offences. Its passage drew condemnation from human rights groups and the United Nations, and the US government called it "one of the most extreme" anti-gay measures in the world.
The measure, signed into law in May, called for life in prison for anyone who engaged in gay sex and allowed the death penalty for what it labelled "aggravated homosexuality". That category included same-sex relations with disabled people, who were defined very broadly.
Prosecutors have now used the death penalty provision to charge a 20-year-old man with having sexual intercourse with a 41-year-old man with a disability in the city of Soroti, in Eastern Uganda, according to Jacquelyn Okui, a spokesperson for the Office of the Director of Public Prosecution. (A separate case against a different man, lodged last month, involved an underage person, Okui said.)
In the conservative, mostly Christian country, many religious leaders and politicians have painted same-sex relations as a Western import. "Africans are being used to accept this nonsense of the Western world, and homosexuality is on the agenda," James Nsaba Buturo, a former minister of ethics and integrity, said in March.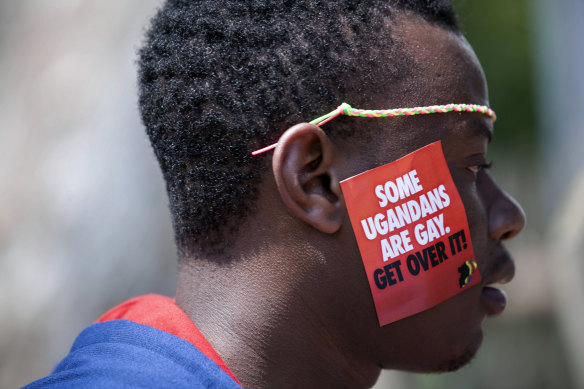 Anti-gay behaviour took a particularly severe turn over the past year, with authorities removing rainbow colours from a park and parents charging into a school because they thought a gay person taught there.
Justine Balya, a director at the Human Rights Awareness and Promotion Forum, said the new law, and the draconian punishments it outlines, had intimidated gay Ugandans.
Her organisation, which is representing the 20-year-old, has reported that overall violence and abuse against LGBT people have increased since the law's passage: 53 people have been evicted from rented property for reasons linked to their sexual orientation or gender identity, 47 have faced violence or threats of violence, and 17 have been arrested on various charges related to sexuality or gender identity.