The number of Indian students enrolling at UOW in Australia overtook the number of Chinese entrants after the pandemic to form the university's largest cohort of overseas students.
And about 40 per cent of the University's 12,430 international students in 2022 studied at offshore campuses in Dubai, Malaysia and Hong Kong or in Singapore and China where UOW operates through partnerships with local institutions.
In India, UOW's reputation will precede it.
"When we start our operation we will be the second-highest ranked university in India (IIT Mumbai is ahead), so our belief is that quality will attract numbers," Frino said.
Frino hopes the Indian campus will eventually outsize its other overseas operations. The student population in Malaysia and Hong Kong are about 6000 and 5000 more in Dubai.
"They're located in much smaller countries relative to India, so we have aspirations that it will be one of the biggest campuses that we operate," he said.
Two initial post-doctoral research scholarships focussed on finance and financial flows will also be offered under the supervision of Australians.
"It's a really nice way of kicking off our campus activities because research is part of being a fully-fledged university operating in the way it normally operates in any other country."
The PhDs will be funded by Tat Capital, a company owned by Indian-Australian businessman Ram Gorlamanda, who founded his company after studying at Sydney's Macquarie University.
"Australian education, in my opinion, is as competent as any European and North American degree but definitely doesn't come with the same kind of price tag," Gorlamanda said.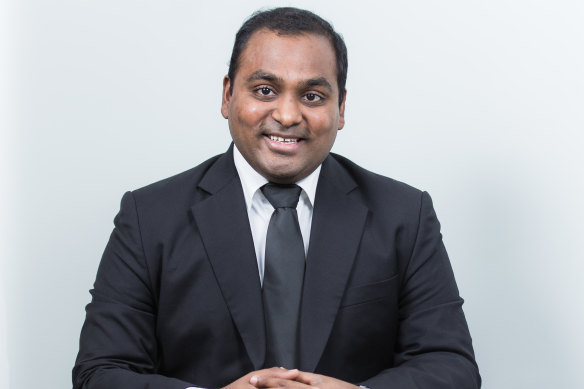 "There is obviously a greater fascination for Ivy League but when you move out of the Ivy League schools I believe any of the Australian universities are the same level of competence beyond the branding."
The campus will have a starting operating budget of around $1 million per year with the bulk of costs going towards staff and IT, with the premises to be leased.
Frino said that he hopes that in a decade's time, the campus will have around 10,000 students and is producing relevant research.
Loading
"If we're not delivering for the community then why are we there? That's a really important component of success in 10 years."
Gorlamanda said he hoped to boost two-way investment between Australian and Indian companies with his collaboration and help Australia in particular diversify its commodity-dependent economy.
"Australia tends to be a price-taker where the greater region decides what price they will put on an Australian commodity and Australia has no choice but to sell at the price that greater Asians have been making," he said.